FruhQuip has extensive experience in machinery moving including machinery removal, transportation, and re-installation. Our highly skilled and experienced Engineers provide the expertise needed to carefully move and install even the most specialized machine equipment pieces.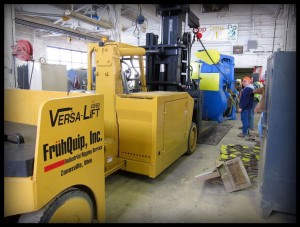 While we work often with machine tools our crews also regularly move and install injection molding machines, ceramic kilns, press brakes, medical equipment, pedestal mounted motors, HVAC equipment, manufacturing equipment, and more.
Our plant millwright services offer the precision setting and alignment of a wide variety of machinery and equipment. Our highly trained personnel, precision engineering, and specialized equipment allow us to complete your project successfully. We have the ability to move and set a full manufacturing line or just one piece of equipment so you can be assured your needs will be met long term.
With an owner present at every FruhQuip job you can be assured that your equipment has been properly moved and installed to your exact specifications.
Our commitment during our Ohio machinery moving projects
Highly qualified personnel
Quick and responsive service
Precision engineering
Adherence to tight timelines
Contact us to learn more about our machinery moving capabilities or view recent machinery moving projects.
Areas Served for Machinery Moving in Ohio Region
We service all areas with machinery moving around Columbus Ohio and along the Ohio River in both Ohio and West Virginia including those listed below. If you don't see your location listed below give us a call and we may be able to work with you!
Zanesville Ohio
Columbus Ohio
Coshocton Ohio
Newark – Heath Ohio
Hebron Ohio
New Philadelphia Ohio
Mount Vernon Ohio
Marietta Ohio
Cambridge Ohio